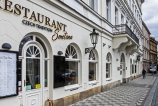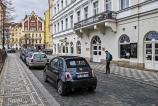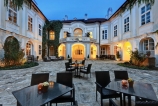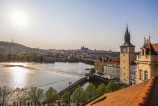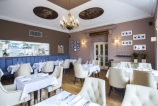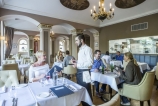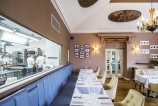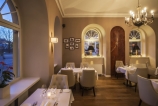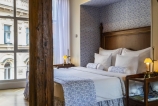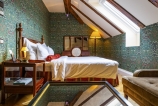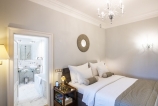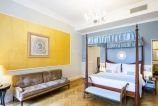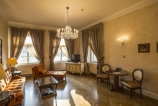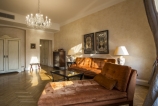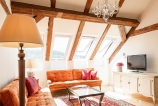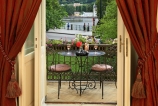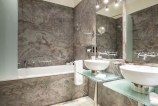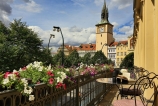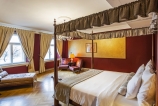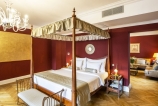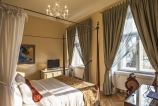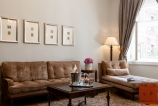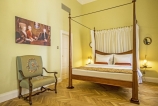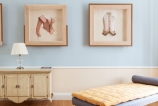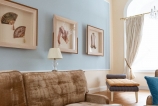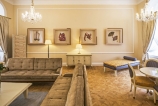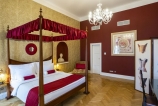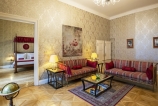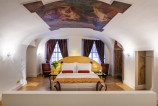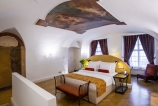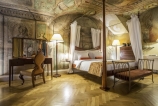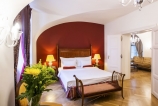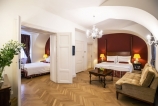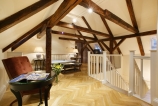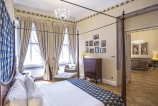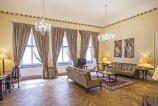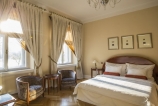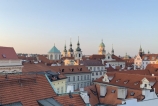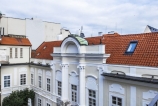 ---
Description
The edifice, built on the site of the old medieval houses by famous architect Jan Josef Virch, belongs to the ancient architectural monuments of Prague. Majestic Pachtuv Palace complex consists of two amazing palaces - the Baroque, with a great outdoor patio of the XVIII century and classic, with a stunning view of the Vltava River and the Prague Castle. Exclusive apartments are a true masterpiece, unique in its originality. The rooms are decorated with original works of art - murals, exquisite antique and modern furniture, carpets, tapestries and paintings, fireplaces and sculptures. ATTENTION! The hotel takes a deposit on arrival.
---
Address
Karoliny Svetle 208/34, Praha 1
---
Location
Hotel is located in the center of Prague on the right bank of the Vltava River, just 50 meters from the Old Town Square and 300 meters from Charles Bridge.
---
Cuisine
Buffet breakfast. Restaurant Bellevue - start your day with a scrumptious. Excellent service while enjoying marvelous views of Prague Castle and Charles Bridge.
SMETANA PIZZERIA TRaDIZIONALE.Taste the authentic flavour of our Neapolitan Pizza which headlines the menu, accompanied by Salads, Pasta, Risotto and other Italian delights.
You can also enjoy a glass of our French House Wine or choose from our selection of fine Italian Wines.
---
Rooms Fund
The hotel offers 50 apartments of Studio, Studio De Luxe, One-Bedroom Apartment, One-Bedroom De Luxe Apartment, Two-Bedrooms De Luxe Apartment, Exceptional Apartments categories. In each room You will find kitchenette, refrigerator, mini-bar, king size bed, satellite TV, telephone, internet, bathroom, air conditioning. Handy Phone.
---
Infrastructure
For Your service there is fitness center, room service, laundry and dry cleaning.
---
Site
https://www.smetanahotel.com/
---